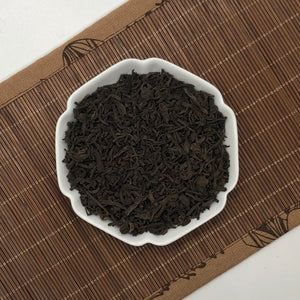 aromateahouse
Aged Luk-On (陳年六安)
Regular price
$8.00
$0.00
Unit price
per
Aged Luk On Tea has a mild taste, comparable with Pu-erh tea, but has its owned freshness and layers. In addition, Luk On tea has a high medical value. It helps to soothe the temper, to aid digestion, and relieve heatstroke, resulted Luk On Tea as being one of the popular beverages in Southeast Asia and Guangdong region. 
【Tea Varieties】Black Tea 
【Tea Soup】Orange red 
【Taste Features】Smooth and mellow 
【Efficacy】It can reduce anger, help digestion, Detoxification, nourishing stomach, etc. 
【Origin】Anhui Province, China 
【Brewing Method】Put an appropriate amount of tea leaves into the tea infuser, brew with boiling water at high temperature, moisten the tea (wash the tea) once or twice times, in order to release the quality of the tea and make the tea more easy to release the tea flavor during brewing. 
【Storage】Stored in cool, dry condition away from direct sunlight
---