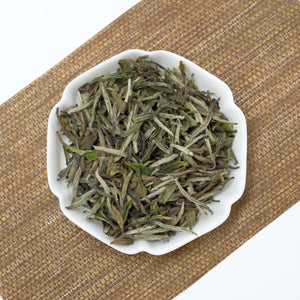 aromateahouse
Ecological White Peony (生態白牡丹)
Regular price
$7.00
$0.00
Unit price
per
Ecological White Peony is grown in high mountains of Fujian Province, China. It is processed by rapid low temperature drying without any rolling and other processing. This enables the tea leaves to retain its original characteristics. White tea is covered in fine white hairs, and buds are picked just before they are fully open. 
The liquor of this tea is a shimmering light gold colour with a smooth mellow taste. This tea cools body heat and has powerful antioxidant properties. Its flavour is refreshing and sweet with a distinct floral fragrance. 
【Tea Varieties】White Tea 
【Tea Soup】Shimmering gold, bright yellow and green
【Taste Features】Subtle and sweet with no grassy  
【Efficacy】 Good for skin health and anti-aging like preventing wrinkles, calming and weight control.
【Origin】Fujian Province, China 
【Storage】Stored in cool, dry condition away from direct sunlight
---