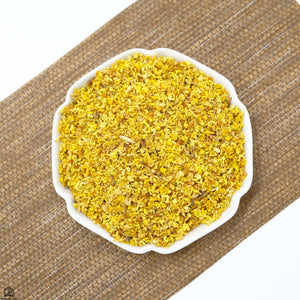 aromateahouse
Osmanthus (桂花)
Regular price
$16.00
$0.00
Unit price
per
Osmanthus blossoms are small and beautiful with an intense yellow golden color.It is a sweet and abundantly aromatic flower. With a small shape and powerful scent, contains a range of notes from honey to peachy. Caffeine free.
【Tea Varieties】Flora Tea
【Taste Features】Honey to peachy
【Efficacy】Osmanthus is herb that can improve skin, detoxify the body, reduce thick saliva in the throat and boost lung health.
【Health Advice】Please adjust the amount of floral teas according to your health condition. Moderate intake of floral teas is healthy for most people. Drinking too much could lead to negative side effects. Make sure to consult a doctor before using floral teas if you're pregnant or breastfeeding or taking any medicine.
【Origin】Guangxi Province, China
【Storage】Suggest refrigerator storage, or stored in cool, dry condition away from direct sunlight.
---