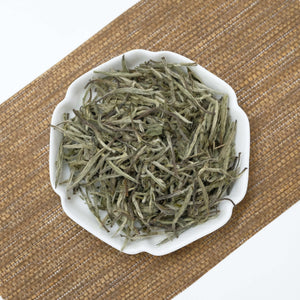 aromateahouse
Silver Needle White Tea (銀針白亳)
Regular price
$9.00
$0.00
Unit price
per
Silver Needle Pekoe is the king of white tea, produced in Fujian Province, China. It is a lightly fermented tea with powerful antioxidant properties. Research indicates that white tea offers the highest antioxidant properties. Its fine tea buds are lustrous and silvery. This tea is cooling and is a great thirst quencher. This tea has a very mellow taste with a hint of sweetness.
【Tea Varieties】White Tea
【Tea Soup】Shimmering gold, and the soup color is bright and gold 
【Taste Features】Sweet aroma, smooth and mellow 
【Efficacy】White Tea is rich in antioxidants. It is good for skin health and anti-aging like preventing wrinkles, calming and weight control.
【Origin】Fujian Province, China
【Storage】Suggest refrigerator storage, or stored in cool, dry condition away from direct sunlight
---