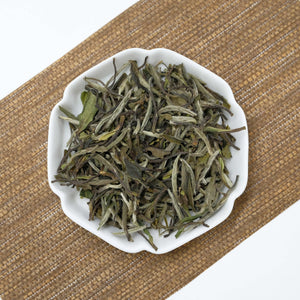 aromateahouse
Supreme White Peony (極品白牡丹)
Regular price
$13.00
$0.00
Unit price
per
Supreme White Peony is a white tea produced in the Fujian Province of China. White tea undergoes the least amount of human processing when compared to other teas. Tea cultivators pick the buds along with fresh leaves and lay the leaves out to dry naturally under the sun. The resulting tea is named after the delicate petals of the White Peony and is characterized by its tender, downy white leaves.
【Tea Varieties】White Tea 
【Tea Soup】Shimmering gold, bright yellow and green 
【Taste Features】Refreshing, sweet and floral aroma
【Efficacy】Good for skin health and anti-aging like preventing wrinkles, calming and weight control.
【Origin】Fujian Province, China 
【Storage】Stored in cool, dry condition away from direct sunlight
---