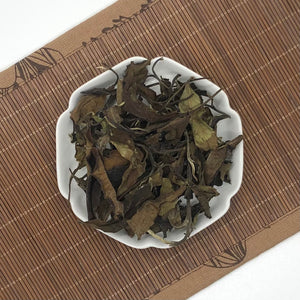 aromateahouse
Moonlight White (月光白)
Regular price
$8.00
$0.00
Unit price
per
Moonlight White is a white tea with a unique visual with one side of the leaf being dark and the other being light. The dawn and dusk aspect of the tea along with the way the withering process is done without sunlight is the origin of the name Moonlight White. This tea has a deeper and richer honeydew sweetness than white teas from Fujian and is recommended for both fans of red and white tea.
【Tea Varieties】White Tea 
【Tea Soup】Shimmering gold, bright yellow and green 
【Taste Features】Refreshing, sweet and floral aroma
【Efficacy】 Good for skin health and anti-aging like preventing wrinkles, calming and weight control.
【Origin】Yunnan Province, China 
【Storage】Stored in cool, dry condition away from direct sunlight
---